Bathroom Zones and IP Rating
IP rating stands for 'Ingress Protection' and is followed by a number that determines how good the protection is.  Basically, the higher the number the better protection against rain, steamy showers or outdoor elements.
If you fit a light outdoors or near a water outlet in a bathroom where there is potential for water to mix with the electrics the light needs to have been tested for water protection (IP Rated)
A bathroom typically is a wet area but it is divided into zones which are based on how near you get to the water e.g. basin taps or shower cubicle.  See the diagram for different zones.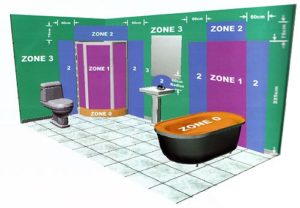 Bathroom Zone 0
Zone 0 is inside the bath or the shower tray where the luminaire is potentially under the water.  Any fitting used must use a low voltage supply, that is a maximum of 12v and also be rated at least IPx7 which means it is totally immersion safe.
Bathroom Zone 1
Zone 1 is the area above the bath or shower tray to a height of 2.25m from the floor. Any fitting used in this zone must have a minimum rating of IP65 , which means it is protected against water spray from all directions.
Bathroom Zone 2
Unsurprisingly, Zone 2 is always adjacent to zone 1 and also around the other water outlets such as the basin. It is an area where the risk of water splashes are not so probable, stretching 0.6m out from the basin tap or zone 1 area.  In this zone an IP rating of at least IP44 is required.
Bathroom Zone 3 (Rest of Room)
Zone 3 is anywhere outside zones 0, 1 and 2 (subject to specific limits) and where no water jets are likely to be used. No IP rating is required in these areas.